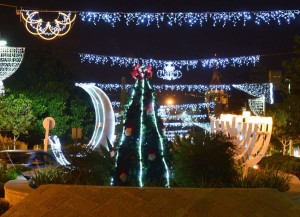 What should we do in the midst of fear and turmoil? How should we respond to extremists who try to divide us, who pounce on fear to promote hatred, racism, and xenophobia? The city of Haifa in Israel responded by celebrating an interfaith religious festival of light, refusing to be drawn into the horrific wave of racism, Islamophobia and violence.
I received an email today from Sharona noting that Haifa's Jewish and Arab citizens draw hope from the city's determination to publicly display religious pluralism. She attached these photographs of Haifa and wrote, "Haifa is adorned with lights. I went past these festive decorations on my way to my mother's house. Just to see the city presenting itself as one is heart-warming. Haifa is special and unique in insisting of being a city of pluralism where all have a place that celebrates all faith festivals. You can tell that the message is getting through when you see the many locals and tourists taking pictures of the lights that include Jewish, Muslims, Christians and Bahia faith tradition. During the month of December this blend of interfaith of lights is called in Haifa the Festival of Festivals. Our friend Jimmy took the photos that I include here. Earlier today I called Jimmy's mother, who lives in Nazareth to wish her Merry Christmas and she was happy to hear from me."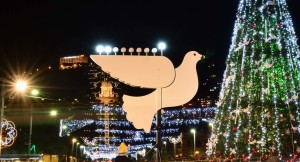 In face of rampant state discrimination of Israeli Arabs, Israeli Jews like Sharona and her husband David defy divisions in personal lives. They confront the tide of hatred in uncertain times by promoting unity and insisting on oneness in their personal life. They forge friendships with Israeli Arabs and use the, albeit, limited yet deep space of relations to affirm kinship, as David said, "We are family. We live here together, these are our problems and we must solve them together." Jimmy is an Israeli Christian Arab and close friend; he, his wife and his parents share life-cycle events with Sharona and David and their daughters and they see each other as extended kin.
In the interstices of the political divisive noise, inflamed by right-wing zealots and by structural inequality, Israel's Arab and Jewish lives, loves, loyalties and affection quietly intersect. In these delicate private spaces they work for peace and co-existence and hope that their government would grow up and join them. In the meantime they will do what they have been doing for years, act ethically, decently and with compassion.
***
Thanks to Jimmy for sharing his photographs.