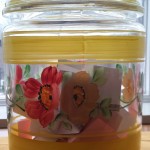 It's winter, and because we live in an area where there's snow on the ground for nearly as many months as there's not, it's sometimes hard not to experience the doldrums. Last year, my partner and I decided to find a way to combat the negativity that winter brings by focusing on the little things that brought us joy. We decided to take our favorite glass cookie jar and repurpose it. It became what we called our Joy Jar, and we set it in a prominent spot in our kitchen so we'd pass it every day.
The Joy Jar became the receptacle of hundreds of little pieces of paper on which we'd capture moments that made us happy. Often these were little things we noticed: the way the sun cast shadows across the snow, the cardinals at the bird feeders, the way the frost made patterns across the window pane. But it was other things as well: the smell of coffee in the morning, our son's marriage and our daughter's engagement, a handmade blanket on a cold afternoon. Each of these things was written on a slip of paper, dated, folded, and dropped into the jar. We kept the Joy Jar going all year, and on New Year's Day, we emptied it and read its contents.
In truth, I'd read a few of those slips on days when it felt like everything was going wrong. It made me happy to focus on what was right in the world. But on New Year's Day, the Joy Jar became something magical: a diary of sorts, our lives captured in moments, ephemeral photographs, slips of memory. We've started to fill our 2016 Joy Jar in earnest. "The seed catalogues have started arriving" nestles next to "making homemade soup with my girl."
We're determined to write things down more often, to notice our lives instead of letting them rush by. What brings you joy? Stop right now and think of three things. Capture them. And when you most need them, unfold. Remember.
***
Sharon Knapp earned her MFA in Fiction from Bennington College. A recent transplant to Western New York, she teaches writing at Writers & Books in Rochester and works as the Director of Training and Organizational Development for a firm in Erie, Pennsylvania. She is constantly seeking joy.