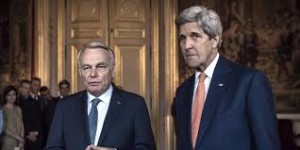 Many politically minded people are asking, "what is the upcoming Friday Paris Conference good for?" In the face of Israel's total rejection, tepid US participation, and an anticipated plain declaration many wonder why go through all the trouble of having a conference.
The French initiative is essentially about delivering a very simple message: the West Bank future is not an internal Israeli matter; rather it is of great concern to the International Community. Thus, it is prepared to intervene, actively if necessary. No wonder that PM Netanyahu is so forcefully opposed to this initiative. He clearly understands that this is the beginning of a process over which, ultimately, he might have no control.
From his perspective he needs to prevent the Conference from going forward and to do so he uses his almost total public-opinion control within Israel and his ability to affect internal US politics. In Israel, one could already hear MKs of the Labor based Zionist Camp and the Centrist Yesh Atid party, opposing the Conference almost as ferociously as the rightist Likud leaders. In the US, so far not much has been heard from AIPAC and other like-minded Jewish organizations. But the Israeli PM is certainly unhappy that Secretary Kerry is attending the Conference, and he will not hesitate to have supportive Jewish organizations, and possibly Trump and Adelson, actively oppose any future steps that would emerge from the Paris Conference.
So where should we peace two-states supporters stand? For me the answer is very simple: Those who see the future of the Occupied Palestinian Territories as an issue on which Israel has a veto power, they should stand with the Israeli Government and oppose the rationale of the Paris Conference. For those who think that at the beginning of the 50th year of occupation the future of the West Bank and its Palestinian inhabitants cannot be entrusted to the most rightist Israeli Governing Coalition, there is another option: They should wholeheartedly support the message that would be coming out of the Cité de Lumières this Friday.