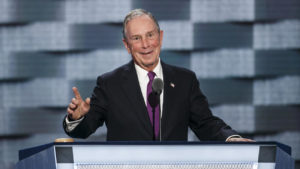 Michael Bloomberg spoke last night at the Democratic National Convention about patriotism, leadership, and hope and found Donald Trump failing in all categories.
Bloomberg's message was one of several eloquent, compelling, and significant speeches, each deserving attention and admiration.
I single out Bloomberg because he offered what few could, a peer review of Trump.
Bloomberg, who by all accounts is far wealthier than Trump, did not speak about his own fortune; instead he reminded Trump of the riches of the American legacy. Bloomberg called on the American Framers to spell out the nation priorities, "When the Founding Fathers arrived here in Philadelphia to forge a new nation, they didn't come as Democrats or Republicans, or to nominate a presidential candidate. They came as patriots who feared party politics." read more