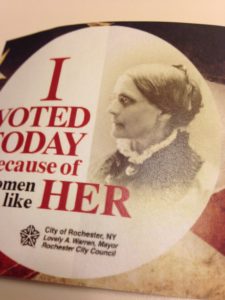 As I mark my vote for a woman for president of the United States and without making a sound I recite the traditional Jewish blessing of Shehecheyanu.
I recite the blessing for doing something for the first time, "Our praise to You, Sovereign of all for giving us life, sustaining us, and enabling us to reach this event."
I cast my vote for the first woman for president of these United States and I feel the presence of millions of women my age who are filled with gratitude that we have lived long enough to "reach this event." I think of all the women who for centuries fought for women's equality and for human rights. And today Susan B. Anthony is at the center of my immense gratitude for reaching this event.
A young man hands me the "I voted today" sticker and I ask for a second one for Susan B. Anthony. I plan to meet a group of women for a special ceremony of placing on her  gravestone this 2016 vote. Instead, I find myself walking with a human throng, with hundreds of people in long lines waiting to pay homage to the woman who fought to give us the vote.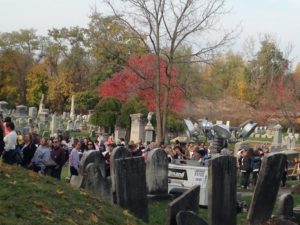 There I am in a long line with generations of mothers and daughters and granddaughters, and men and children and babies and some of my friends and our Mayor Lovely Warren and Congresswoman Louise Slaughter and so many people of every color of the rainbow of all ages and traditions. Drums in this beautiful fall day offer the right mystical humming and our hearts beat as one in jubilation in this amazing historic American celebration.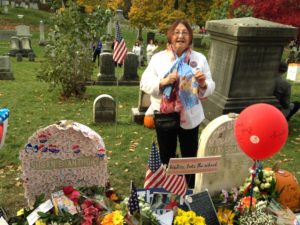 Thousands are expected to visit Mt. Hope cemetery in Rochester NY. The cemetery that closes its gates at 5:00 is planning to stay open today until 9:00 to allow all those who wish to come and add their "I voted today," to let Susan B. know how grateful we are for the legacy of courage she has left us; a legacy picked up by leaders like Hillary Clinton who have not given up, who believe that women's rights are humans rights and human rights are women's right. Shehecheyanu.