Six women meet in Parshat Shemot and change the course of Jewish history. The first Torah portion of the book of Exodus introduces us to six "amizot", six unique and brave women. Each woman in her own way takes a critical part in the grand saga of the liberation of the Israelites from Egyptian slavery.
We start the book of Exodus with the challenge of historical memory. "A new king, who did not know Joseph, came into power over Egypt. He announced to his people "The Israelites are becoming too numerous and strong for us."(Exodus 1:9). He outlines a plan of oppression and infanticide to rectify this problem. He is thwarted in this endeavor by the first two women we meet in the parsha. Puah and Shifra, professional midwives who work in the Jewish quarter. Pharaoh commands these women to carry out his nefarious plan. They are charged with killing all male Hebrew children. They don't do it. With the fear of the Almighty and with their own professional ethics, they stand up to authority and commit acts of civil disobedience. "The Hebrew women are not like the Egyptians" replied the midwives to Pharaoh, "They know how to deliver. They can give birth before a midwife even gets to them". (Exodus 1:19)
A woman from the house of Levi gives birth to a baby boy. Using the same words that the Almighty uses when creating the world, Yocheved looks at her beautiful boy and sees that he is "ki tov", that he is good, that he is something amazing and wonderful and with a mother's ferocity and will to save her son, she builds a little waterproof cradle and places it in the bulrushes. This seems to be the best alternative for his survival. I see in this woman, the ancestor of women who placed their children on trains and boats during the time of the Holocaust- just praying that they would escape the evil decree. Yocheved defies her grime reality and dares to hope for a future.
And this child is saved. The daughter of Pharaoh happens across him while bathing. She hears his cry and feels pity on him. She knows he is a Hebrew baby, but she acts out of compassion. She saves a tiny three month old infant who will become our greatest leader. When face to face with a real situation, Pharaoh's daughter is at the right place at the right time and makes the right decision.
The next woman we meet is Miriam, Moshe's big sister. Watching her brother from the banks of the river, she pops out of the bushes and talks to the royal princess:" Shall I go and call a Hebrew woman to nurse the child for you?"(Exodus 2:7) Miriam is a young girl at this point, but her loyalty to her values and her love of her family give her the strength to be daring and brave.
Moshe grows up in the palace and is given all the benefits of a royal upbringing. Nevertheless, deep inside Moshe resides the "pintele yid" (the essential Jewish spark) and when he witnesses the harshness of a taskmaster towards a Hebrew slave, he is outraged and kills the taskmaster. Zipporah the daughter of a Midianite leader, meets Moshe as he escapes from Egypt. Initially we don't hear her voice. She is given in marriage to Moshe and has two sons. On the way back to Egypt, the Almighty threatens Moshe's life, Zipporah quickly understands the situation, circumcises her son and saves Moshe's life. Zipporah finally speaks and says "You are married to blood because of the circumcision." (Exodus 4:26) Zipporah is the EMT of women, she looks at the situation, processes it and acts and only then speaks. Overwhelmed by this radical act, her language is charged and emotional.
These six women were all activists and each played an important role our history. Their motivations were different. Puah and Sifra remained true to their faith and their professional ethics and refused to carry out immoral dictates. Yocheved with a mother's fierce love took a necessary gamble to save her son. Miriam was driven by loyalty to her family and faith and was able to insure that Moshe would be fed and nurtured. Pharaoh's daughter was moved by a compassionate concern for the "other" and saved just one baby. Zipporah was able to make a quick and decisive decision in the face of imminent disaster. She heard God's threat to Moshe and circumcised her son. If just one of these women hadn't acted, Moshe might not have survived and what we know as our Jewish legacy would be different.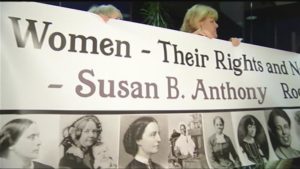 Time passes but unfortunately the need for dissent and activism remain. Freedom erodes and tyranny threatens. On January 21, 2017, in response to President Donald Trump's rhetoric and campaign promises, millions of women poured out into the streets all over the U.S. and beyond. The theme of many of the marches was reproductive rights, but at our rally here in Rochester, New York (and I believe in other cities as well) women and men gathered with signs and speeches about health care, the environment, immigrant rights, support for the LGBT community and more. Some women marched with a mother's fierce love for the planet, some marched with compassion for the immigrant, some marched with a devotion to the ethical mandate of providing health care for all, some marched with the righteous anger holding signs "Black Lives Matter" and others marched with a sisterly love for all people, straight or gay. Old women, young women, boys, men, people of color, folks with disabilities, first timers, and veteran protesters all marched together united. Sometimes brave women meet together in a parsha and at other times they meet together in a parade, but wherever and whenever they meet with hope and courage they can change the course of history.
—
*Another version, "Harriet Tubman Joins Six Women of Courage in the Exodus Story" by Ayala Emmett, was published in TJP in 2015.