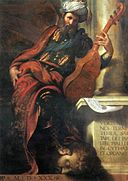 One of the greatest virtues of Tanach according to Ben Gurion has been "The truth, the unvarnished truth that shows no favoritism." It is the truth "that has God's imprint on it " and therefore "there are few books in the world that have that biblical imprint." As clear proof to that sharp biblical truth Ben Gurion invoked King David's life story, "of his awesome deeds and shameful crimes," as it unfolds in the book of Samuel (and in early Kings).
In a dispute with Israeli literary critic Avraham Kariv, Ben-Gurion used the full force of "the ethical and the Jewish" to reject the approach that "every verse came to universal and eternal life in the post Tanachic period;" he opposed the argument that "the Midrashic truth is superior to the Tanach truth."
Ben Gurion presented the gap between the image of King David in the bible and in Midrash, "How beautiful is the Agadah about David's violin that would play on its own, and as at midnight David would study the Torah until dawn." He also brought up the Midrash that describes King David as one who makes Halachic (legal) decisions while "all the Eastern and Western kings were occupied with their honor" – King David was busy with Halachic issues of purifying a wife for her husband. This image, Ben Gurion said, is not the bible's David. Tanach is founded on truth—"let's honor truth," he passionately declared and added: "Let's study Tanach as it is, with its immense and bitter truth; and when we feel despondent – let us read the beautifully moving Psalms hymns." Kind David of the books of Prophets is also King David, the sweet singer of Israel, and the whole of Tanach is "a ladder with its feet on the ground and it head in the heaven."
Contrary to a false public perception- Ben-Gurion did not dismiss the rabbinic post biblical tradition. "Midrash has it's distinct virtues—and Tanach its distinct prominence. However, there are differences -"The books of Tanach and the books of Midrash are without question two completely different things; the latter are dependent on the former, though not totally and not in every aspect." Ben Gurion was not of the opinion that Midrash was intended originally to offer an exposition of Tanach. He thought that the authors of Midrash "drew on biblical verses in order to express their own thoughts" and while these were often "inspiring and enriching" –they were the words of Midrash "not the words of Tanach"—and Tanach "never denies the plain meaning of the text".
"Tanach was great and limitless before Midrash and is independent of it, and is to be understood internally and not with the help of Midrash."
"The books, commentaries and Midrashim that were written after the Tanachic period are part of our spiritual heritage and we should pass on their light to future generations," according to Ben Gurion. Tanach however "is our national ID" – and we need to respect and recognize "this ID as it is."
—
Translated from the Hebrew by Ayala Emmett