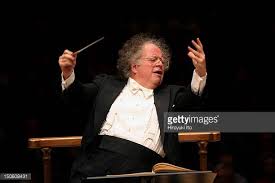 I was home on Saturday afternoon. As I have for over forty years, at I o'clock, starting every December, when I can, I listen to the Metropolitan Opera radio broadcast. It was the first broadcast of the season. Very unusually, the performance was not of an opera, but the Requiem of Giuseppe Verdi.   James Levine was conducting. It was, if I am correct, his 2865th performance with the Metropolitan Opera, far more than any other performer in the history of the house. It probably was his last.
Verdi's Requiem is not an opera, but it is very operatic. Its best-known segment, the Dies Irae, with a supercharged chorus and thumping bass drum, has been used in numerous commercials. The Dies Irae is a medieval text, opening, "Dies Irae, dies Illa" usually translated, "day of judgment, day of wrath." James Levine had his day of judgement the next day, on Sunday. The day or days of wrath are still unfolding. The first opera he conducted at the Met, in 1971, was a performance of Puccini's Tosca. He was scheduled to conduct a new production of Tosca starting later this month. Of all the operas in the standard repertoire, it is the opera most concerned with sexual harassment.
There is perhaps no musician in his lifetime I have admired as much as James Levine. I came of age as an opera fan in the mid-1970s, just as Levine was beginning his tenure at the Met. Over the intervening years I have heard him conduct the Met orchestra, in person, on the radio, in Live in HD performances, hundreds of times. He raised the caliber of the Met Orchestra, honed fine ensemble performances from great casts, and always knew how to get the most out of any piece he was conducting. He knew how to get the crisp, crackling rhythms needed in Verdi, how to milk a slow line in Wagner for maximum emotional impact without falling into ponderousness, how to keep Mozart bright and edgy without sounding metallic or brittle, and so on, throughout his vast repertoire. I recently read a glossy book about James Levine years at the Met and I felt I was reading a chapter of my life. Given his health problems in recent years, I've thought maybe it was time for him to retire, and at some point, the Levine cult at the Met went from a just appreciation of his remarkable talents and service to the Met to something approaching sycophancy, but I figured if anyone deserved a bit of over-adulation in our celebrity-saturated world, why not James Levine?
On the other hand, like every other opera fan, I had heard the rumors. I have never been on the Met scuttlebutt grapevine, but the rumors were everywhere, and as recent documents have shown, the Met was aware of specific allegations as early as 1979. It must have been in the mid-1980s that someone told me that Levine had this thing for young boys and it was getting him in trouble. I thought that the person telling me this seemed too gleeful in passing along this bit of character assassination, and I didn't believe it, or didn't want to believe it. I had the usual rationalizations; none of my business; I certainly don't care if he is gay; and with everyone passing along the rumors, I thought that if there was any truth to them, Levine would have been disciplined. And on some level, I just didn't care that much. They weren't verified, and it someone else's problem. I went to the Met to see opera, and not to sit in judgment on the sex lives of the performers those I was watching.
Well, I was wrong on every account, especially not understanding how easily powerful men can avoid their days of reckoning, bringing all sorts of institutional power to bear on their victims and would-be accusers. We will find out how complicit the Met has been over the years in covering up for Levine, and how much the Met management knew and when. My attitudes were part of the broader see-no-evil, hear-no-evil, speak-no-evil conspiracy that has permitted a culture of sex crimes to be continually swept under the rug.
The truth will come out. Levine stands accused of inappropriate behavior with boys and young men, but the climate in which this is being discussed is the fallout from the revelations about Harvey Weinstein and many others in which the victims were women. I have been astonished, though I shouldn't have been, by these revelations about male misbehavior, and the pervasiveness, really the ubiquity of harassment, of how powerful men can get what they want from underlings, females usually but sometimes male, and when powerful men can demand what they want, without any real checks and balances, they will eventually get around to demanding sex.
The freedom from harassment is an underappreciated freedom, but the right not be harassed, not to be hassled, the right not to be the butt of jokes, the right not to have one's appearance invidiously commented upon, the right to be left alone if you're leaving other people alone, is a key right. Howard Thurman, the great African American religious thinker, wrote in 1971 that the greatest burden of being black was "that always, under any and all circumstances," one's "life was utterly at the mercy of the white world." This could be a matter of life or death, or it could be a less ultimate but profoundly humiliating experience. As the Black Lives Matters movement and other recent events show, the right not to be harassed for African Americans, some 160 years after the end of legal slavery, very much a work in progress.
Women have waged a similar fight. It is conventional to speak of "waves " of feminism. First wave feminism, tried to establish the right to citizenship. Second wave feminism, tried to establish the right of women to seek their own paths and destinies, in the work place, in school, in relationships, in the work place. Perhaps we are entering a new wave, led by women, but by no means limited to them, the right to paraphrase Thurman, not to be at the mercy of anyone else, the right to not be taken advantage of, and the right to demand that others change their behavior. It is this last demand, requiring those in power once and for all to give up their power over others, direct and indirect, implied and explicit, that is the most difficult to obtain.
I see what is going on as nothing short of a revolution, one all the more remarkable, because in almost every other way our country is going in the wrong direction, a country that elected, in a misbegotten moment, a disgusting sexual predator president of the United States. The course of revolutions never goes smoothly; there will be reversals, there will be backlashes, there will be attempts at co-optation. And we will never reach our goal; we will never live in a world of true equals, a world in which power to control others against their will has been banished. But we will get closer.
There was an article in the Times yesterday morning questioning whether we should listen to Levine recordings anymore. This is a personal decision, but for someone who has listened for years, albeit uneasily, to some magnificent recordings of classical music made in Germany between 1933 and 1945, or to various odes to Stalin written by Prokofiev and Shostakovich, I am disinclined to draw hard and fast lines between art and morality. But Levine's recordings are now tarnished in a way similar to a 1942 recording of a Beethoven symphony recorded by Furtwangler and the boys from the Berlin Phil.
I need to become a better listener to voices that I did not pay attention to, voices that were either unheard or that I refused to hear. It's a new kind of opera, with many thousands of voices, with an improvised libretto, an opera that has will not be conducted by James Levine. As for Levine, there is only a single word, offered in sorrow, anger, and pain. Jimmy, its Gotterdämmerung.