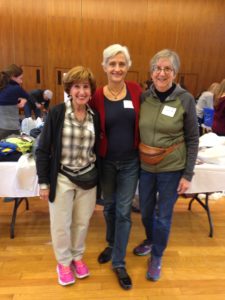 Sunday December 3 turns out to be a beautiful sunny day, a surprising treat in Rochester. I sit in a line of cars inching our way to unload our donations at the door. The line is long, the day is pleasantly warm, and I decide to park my car and walk over. I do not know yet that I would speak to the organizers of the event. I am unaware that I would encounter Alexis de Tocqueville's Democracy in America, or that I would leave with unexpected gifts. My plan is to just drop off my items and enjoy the rest of the day.
As I walk to the door, all around me are people carrying boxes and bags filled to the brim. Inside, the large hall of Temple B'rith Kodesh is alive with donors, volunteers and oceans of donations. This is the local response to the Jewish Federation's call to support our refugee neighbors. The organizers have asked for daily necessities, new or gently used items, clothing, toiletries, household goods, and small appliances. They set up booths for the agencies that serve local refugees. The place is humming with the pulse of communal action. I am moved by the sight and surprised by the sound that despite the multitude is soft and warm, almost a prayer. I go over to Bobbi Borg, one of the organizers of the event, to say how impressive the response is and she tells me, "We see the goodness of people in the sea of political turmoil and uncertainty. We asked, and people came." And of course, right away, I remember Tocqueville.
Bobbi expresses an aspect of America that has inspired French social scientist Alexis de Tocqueville to claim that the power of American democracy lies in its local organizing. It is at the local level, Tocqueville writes, that Americans come together as neighbors to uphold and give life to democratic values. It is Tocqueville who tells Europe in the 19th century about the new American phenomenon of voluntarism.
Now with Tocqueville as my guide, I want to know how this local event was organized and Bobbi tells me, "The real soul behind the Day for Refugees came from the 60 plus volunteers who made this possible. The Community Relations Department (of the Jewish Federation) under the wonderful guidance of Karen Elam and the outstanding chairmanship of Julie Nusbaum has developed a dedicated Refugee Committee. Starting with a meeting with HIAS. We began to develop a plan to introduce the issue to the Jewish community. Meeting members of the various refugee agencies was important to our committee. This has been a remarkable learning experience for all of us and for the greater Jewish community through this event. We're lucky in Rochester to have such a wonderful interfaith community!
Tocqueville saw voluntary associations as the heart of American democracy. Civic associations is where Americans organize not for gain, but to serve the public good and improve the quality of human lives. Tocqueville, I imagine would appreciate HIAS, an organization that was founded in 1881 to assist Jews fleeing pogroms in Russia and Eastern Europe and has since gone global. It works with refugees in camps and cities from Kenya to Ecuador, helping refugees wherever they are.  HIAS motto has been, Welcome the Stranger, Protect the Refugee.
I turn to Karen Elam the director of community relations to hear how the idea to support refugees in Rochester was conceived. "As Bobbi said, we began planning almost a year ago when we first invited HIAS to come talk with the community about refugee issues. We were motivated by our own Jewish history to "welcome the stranger" and do what we could to support today's refugees. We sought to create an event with two goals: to collect items that our refugee neighbors need, and to connect community members to the work of the agencies that serve them. The event far surpassed our expectations. We had no idea how much we would collect and we were blown away by the generosity of this community. ​The success of this event sends an important message to our refugee neighbors: We care, and we're so glad you're here."
Like the hundreds of donors who came to support refugees, I wanted to do my part of giving. I came away with gifts. I took with me what I saw and heard on December 3, compassion, decency and humanity. In 1835 Tocqueville wrote, "America is great because she is good. If America ceases to be good, America will cease to be great." Supporting Our Refugee Neighbors in Rochester New York  and similar events all around the country, and thousands of acts of inclusion, equality, and human rights are the essence of good that makes America great.
***
Ayala Emmett is Professor Emeritus of Anthropology at the University of Rochester and Chair of the Social Action Committee at Temple B'rith Kodesh.