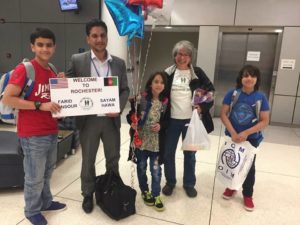 How would you thank someone for saving your life? 
What if they saved your son's life? Your niece or your nephew? What if they saved the life of your grandchild?
Would you welcome them into your life? Would you give them a teapot? Some soap or maybe towels? Would you give them a pot needed for cooking, or perhaps some rice so they may eat? Would you show them how to use a bus if they did not know how? Would you help them shop, or take them to the local farmers' markets so they have fresh food?
How would you thank them? 
How would you thank someone who placed their life on the line for U.S. soldiers as interpreters and support personnel, and hunted by the Taliban or Isil, because they helped an American? 
Join TBK Kollel, the Social Action Committee, and No One Left Behind – Rochester, N.Y. Chapter, on Sunday, Jan. 21, at 10 a.m. in the adult lounge at Temple B'rith Kodesh to find out the work that NOLB does in the Rochester area resettling Afghans and Iraqi refugees who risked their lives for our troops and country in the war on terror and extremism.  Find out how you can thank them through offering support, and the hand of friendship. 
Featured speakers are Temple B'rith Kodesh's Irwin Solomon, and NOLB Rochester Chapter Director Ellen Smith. They will be joined by Abdullah Dindost and Parwez Askarzada who served the U.S., and were targeted by the Taliban for their faithful and honorable service in helping our troops.   
This is what a refugee looks like!

​