Jewish Women for Child Refugees (JWCR): An Update from Lawyers who returned from Artesia N.M.
Ayala Emmett, Debby Kornfeld and Ahavya Deutsch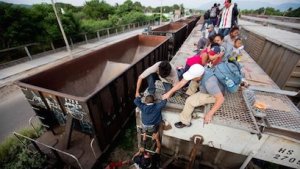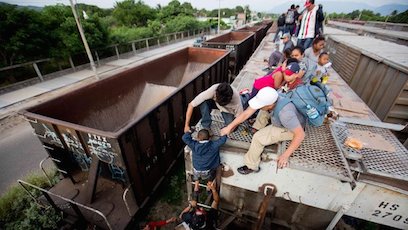 JWCR Responded to The Crisis of Child Refugees from Central America
In the summer of 2014 we all have heard about the children refugees from Central America seeking asylum in the United States. These children are fleeing unspeakable violence, and have risked their lives to come here, because remaining in their countries of origin is a death sentence.
As Jews, we remember a time during World War II when it was Jewish parents who put their children on trains and buses, hoping they would find safety at the end of their journey. We, a group of Rochester Jewish Women for Child Refugees, JWCR, decided to take action and help these asylum-seeking children.
We found out that many of the children are being sent back to their countries and those are mostly children who are not represented by lawyers to argue their case. Our plan was to raise funds to send lawyers to Artesia N.M. to an ICE detention center for mothers and children seeking asylum.
We asked the community of Spanish speaking Rochester attorneys if they would be willing to volunteer their time to travel to New Mexico and spend at least a week assisting refugees with their asylum applications. We had an overwhelming response rate, and have so far sent four attorneys, and have several more who would like to go if we can raise the money to send them. Our goal is to send them all, at an estimated cost per lawyer of $1000. The Legal Aid Society of Rochester, a 501(c)(3) charitable organization, has agreed to administer our funds and receive our donations. The response to our call for action was overwhelming, we received numerous donations and we are grateful to them all for their enormous generosity.
Shocking Conditions in Artesia N.M.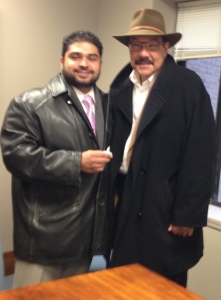 On Wednesday December 3, we met with three of the four lawyers who have already been to Artesia, Michael Lopez, Teo Siguenza, and Carlos Rodriguez. * They shared with us the shocking living conditions at the ICE (Immigration and Custom Enforcement) detention center located at the FLETC (the Federal Law Enforcement Training Center).
The lawyers told us that the detention center has about 450 mothers and children seeking asylum. The mothers impressed the lawyers with their courage to embark on a dangerous journey because they were determined to save their children's lives. They told the lawyers that what kept them going was the hope they would be able to take their children to safety. One mother described swimming the Rio Grande with her baby on her back.
The lawyers noted that seeking asylum according to the United Nations Geneva Convention (1951) is not illegal and these asylum seekers have committed no crime. Nevertheless, upon crossing the border the mothers and children have been immediately detained by ICE, and placed in a secure facility – as though they were criminals. The mothers are interrogated about the assistance they received in getting to America – as though they were party to a criminal conspiracy – when in reality all they wanted was a safe place to raise their children.
The refugees were shocked to learn that their suffering was far from over. They have no freedom of movement in the detention center and even going to the bathroom required permission. Harassment was experienced in various ways including putting mothers and children on buses at night only to return them to the camp in the morning, or sending children without the mother's consent or knowledge to foster families.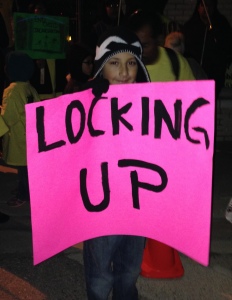 The lawyers saw the center as a prison in which no clear rules are imparted, leaving the refugees guessing as to what is expected or how they should go about the legal process. Mothers resorted to writing notes on pieces of paper asking for legal help.
The lawyers described the process of asylum seeking at the center as chaotic and arbitrary. Adding to the chaos is the fact that all encounters with U.S. officials take place in translation; the officials don't speak Spanish and the process of applying for refugee status depends on translation. So much is at stake in the process, the lawyers said, since the first step is an interview with an asylum officer called a "Credible Fear Interview." It is an interview in which mothers and children have to make a compelling case that they have a credible fear of serious physical harm or death if they return to their home countries.
The second stage is to post a bond that is determined by the asylum officers and confirmed by a judge. The lawyers were emotionally moved by their encounters with the mothers they accompanied to the bond hearing with the judges who were not legally trained and did not speak Spanish. The need for legal representation was great and the lawyers wanted to help as many mothers as they could. Their days often started at 5a.m. and ended at 1a.m.
The lawyers found out that there were no fixed amount for the bond, and the amounts could vary from $0 to as much as $20,000 with little apparent logic. In reality ICE could have determined that no bond at all was needed. A relative of the petitioner would have to send the bond money and sometimes and for no obvious reason the bond could be denied. The sense the lawyers got was ICE made little effort to make the process organized, coherent or fair, and that the underlying goal was to discourage the refugees, most, if not all, of whom had relatives who would provide a bond.
The lawyers felt that they were most effective in the bond hearings before a judge and in reducing the bond amounts so that the refugees could be reunited with their families. They were grateful for the opportunity to help the mothers and children and said they were shocked and pained to see the plight of the refugees. Every attorney that we have sent has said they are ready and committed to returning and assisting more refugees.
Often in the media this wave of refugees has been seen, assessed and dismissed in economic or political terms. The lawyers saw each mother and child as a human rights issue, and listened as they told their stories. The mothers told them their hopes and aspirations; how hard they could work to provide for themselves and their children, and mentioned the various skills they brought with them.
When the lawyers came back from Artesia ready to share their experiences, they were dismayed and hurt by the lack of interest from elected officials and the media. Carlos Rodrigues said, "Obama should be ashamed of what is going on." America, all of us, should be ashamed that we allow it to go on. We JWCR together with these dedicated lawyers our donors and the Latino community will not let go, and will continue to raise funds for lawyers to represent the asylum-seeking refugees. This is the American thing to do, and the ethical thing to do.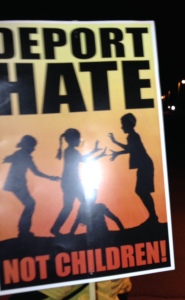 Donations
Please mail any donations to The Legal Aid Society of Rochester, Attn: Bill Davis at 1 West Main Street, Suite 800, Rochester NY 14614. Any checks should say "JWCR" on them in the memo line, and we will ensure they receive a receipt for tax purposes. Please let us know if you have any questions. We are so grateful for your generosity.
Our Contact are: Debby Kornfeld Phone: 585-269-8528; Ayala Emmett Email: ayala.emmett@rochester.edu
*We had an Email from our fourth lawyer Marino Fernandez who writes that going to Artesia was "a life-changing experience" and offers a link to his blog describing his experiences.