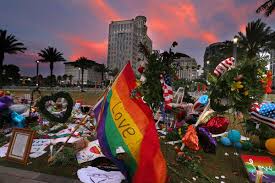 Joy turned into mourning
A celebration became a funeral procession.
Gone are you beautiful people
Life interrupted in the spring of your time.
The Pulse was a place for America-
All are created equal with unalienable rights
To life, liberty and the pursuit of happiness:
To hold hands in broad daylight,
To love and to cherish at weddings.
In the Pulse last week
A murderer was among you
And you didn't know.
Life-Shattering Shots
And the breath of life left forty-nine
People created in the Image of God. read more