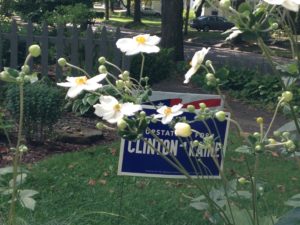 As women who care deeply about the future of our country, we want to build a tower of love and strength for you. We are appalled by the ignorant misrepresentation of you by TV networks that seek ratings through false controversies.
The two candidates vying for office are in no way comparable. You are an experienced stateswoman, the best-prepared presidential candidate of our time. Your opponent is a huckster. TV journalists treat the fraud with respect while they attack the stateswoman with impunity.
As women who have excelled in a very sexist culture, we see the unfairness of this treatment and we are not fooled.
We are not fooled by the bullying hysteria that our media whips up for their own profit. We are not fooled by the myriad ways they try to diminish your accomplishments. Finally, we are not fooled about what's at stake: the future of our world, our land, our children, our grandchildren.
Hillary, You have our support and our love.
Please "sign" the letter by sending your name to Erica Jong erica@ericajong.com
ERICA MANN JONG
JILL SCHARY ROBINSON
JULIE TAYMOR
JANE FONDA
SUSAN GRANGER
LYNN HENDEE
JEANNE CLOPPSE
AIMEE GINSBURG
KIM DOWER
LETTY COTTIN POGREBIN
JULIE KLAM
MANDA BENCHLEY
HONOR MOORE
PATRICIA BOSWORTH
SUSAN BIRKENHEAD
MARISA ACOCELLA MARCHETTO
GERRI KARETSKY
DAPHNE MERKIN
AMY BERKOWER
LYNNE D. FLEXNER
JESSICA WOLFSON
KATHLEEN DANIELPOUR
BARBARA SLATE
KAREN KARBO
CINDY MEEHL
MARY MOBLEY
LAURA FLINK
LIZA ADARA
ARIEL LEVY
CYNDI LAUPER
CAROL GILLIGAN
SUZANNA MANN
SHARON FESCHER
SALLY PETERSON
NANCY MANOCHERIAN
JENNIFER MANOCHERIAN
WILLA SHALIT
SALLY FISHER
ANNE HEME
LISA SOKOLOV
URSULA SCHNEIDER
GAIL GORDON
Carol Lippman
Jayne Wallace
JAYNE PLINER
Marci Blaze
Meredith Nancy Angelo
CAROL WINOGRAD
MARY WILLIS
NIKKI COYOTE
AYALA EMMETT