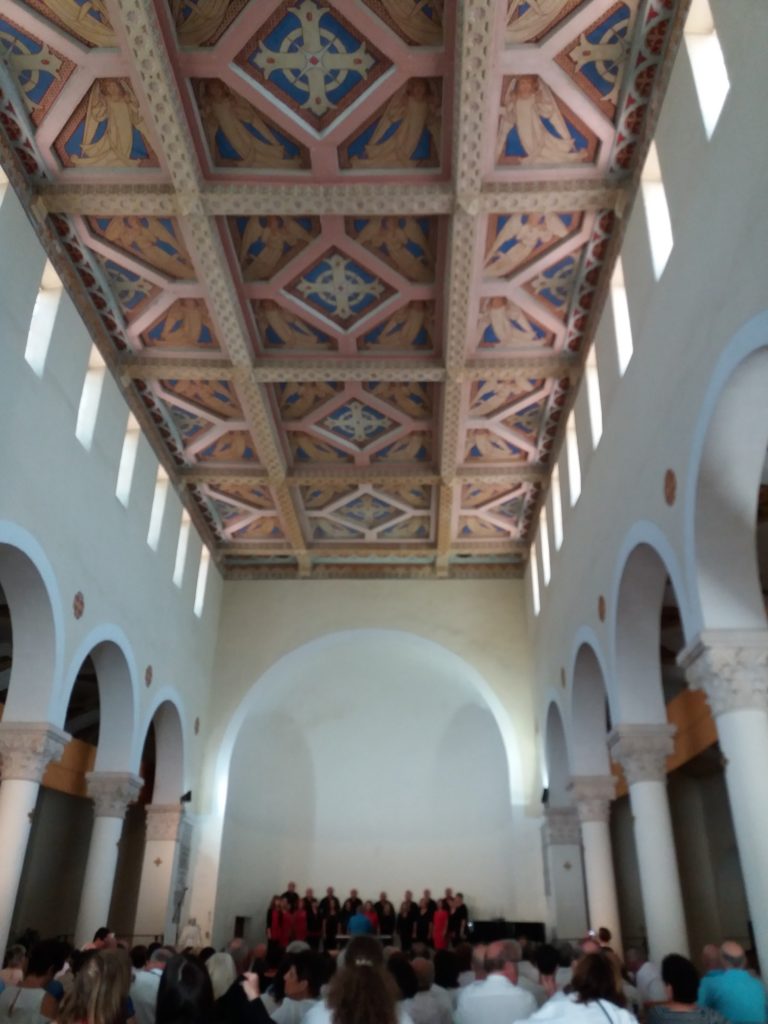 Our Lady of the Ark of the Covenant is the largest church in Abu Ghosh, an Arab village not far from Jerusalem.  Six hundred of us, singers of several choirs from around Israel, came to this church for our annual festival. The Vocal Music Hebrew Songs festival was held in a sacred place, filled with majesty, reverence and beauty.
In this large church with its high ceiling, we sang the day after Shavuot the festival of the receiving of the Torah. That day is also known in Hebrew as Isru Hag, the Binding of the Festival that comes at the end of three major Jewish pilgrimage festivals.
The church's name and location link our religious traditions.  We sang in a church named to commemorate the site where the Holy Ark was placed for 20 years in the house of Avinadav until King David decided to bring the Ark to Jerusalem, the place of pilgrimage. As we sang and the crowd joined us and music filled and flowed and reverberated in the church, it was easy to imagine Moses accompanied by angels coming down to hear the amazingly stunning music we produced.
I was so moved to be part of this event in which an Arab village, its church, and Hebrew singing could harmonize, sing in one voice, link arms and hope together. May our joint prayer for peace and coexistence find its way directly to the Heaven above.
***
Sharona Langerman is an artist and photographer and for a number of years has been a member of a choir that belongs to the Israel Vocal Music festival.
Translated from the Hebrew by Ayala Emmett
.