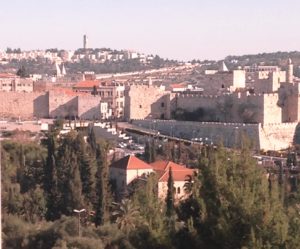 She heard four gunshots. It happened on Friday March 19 2004, in a Jewish neighborhood in Jerusalem. It took place, she told me, shortly after her husband had returned from synagogue. As on every Friday night they followed Jewish Sabbath practices, they sang the song welcoming God's angels to their home, blessed the wine, washed their hands, made the blessing over the challah bread and started the meal when she heard the shots.
She ran to the porch and looked three stories down and there in the parking lot was a person lying on the ground. She told her husband to pick up the phone, which they would not ordinarily do on the Sabbath. He called an ambulance and they both ran down as fast as they could. She recognized the young man. For sometime she had done some brisk walking in the neighborhood and had seen the man jogging. They had exchanged greetings, but nothing more.
Another neighbor tried to stop the bleeding. She knelt down, took the man's hand in her own and tried to keep him conscious. "Don't worry. Help is on the way. You will be fine. You will jog again and next time when we meet we will do more than just say, shalom. We will introduce ourselves. You will come to my house and I will make coffee, and we will get to know each other."
That was not to be. The young man died from gun wounds, two to his head. The police came to her house. They told her that the young man's name was George Khouri, a Palestinian, a student at the Hebrew University and the son of a prominent Palestinian family. A Palestinian group claimed responsibility for the killing and expressed regrets to the Khouri family.
She called George Khouri's father, told him who she was and gave him her phone number. He said he would call back. Twenty minutes later he returned the call. He wanted to know if his son had cried. "No," she said. "He did not cry. I talked to him and he responded with his eyes."
A bereaved Palestinian father cried in the village of Beit Hanina and four kilometers away, she cried in her home in the French Hill, a Jewish neighborhood that was built after 1967 on Palestinian land to expand the size of Jewish Jerusalem.
She is a religious Israeli grandmother who follows the rules of modesty of dress and covers her hair. On the night of the killing of George Khouri she celebrated her sixty-second birthday. For many years she and I were on opposite sides of the Israeli-Palestinian conflict. She had been a right-wing pro-settlements, while I opposed the occupation.
Saturday night, as soon as the Sabbath was over, she took a large memorial candle, cut flowers from her garden and went to place where George Khouri was killed and created a memorial site. When she was done, she read from the book of Psalms, according to Jewish mourning customs. In the following days, people came to the memorial site. Israelis and Palestinians brought candles and flowers. She told me that every evening his friends and relatives had come to the spot where he was gunned down. Someone, she told me, placed a photograph of George Khouri at the site.
Meron Benvensiti, a former deputy mayor of Jerusalem wrote in Haaretz, "Elias, George Khouri's father prayed, 'May George be the last victim in the long conflict between our nations.' Anyone who was at the Greek Orthodox cemetery on Mount Zion, Christian, Muslim and Jewish could not but weep for the loss and feel the tragedy we live in."
All these years later, Peace has not come to Jerusalem. The Jewish woman who held George Khouri's hand was my sister Yonah Weiss. Yonah died in Jerusalem on December 17, 2017.