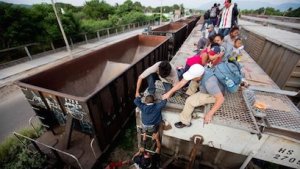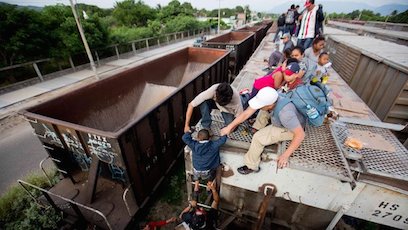 President Obama celebrated Christmas in beautiful Hawaii, while his administration told children there would be no presents for them, and no Christmas cards saying peace and joy. When the knock would come on their door it would not be UPS with lovely presents; it would be government agents to send them back to places of terror.
These children and mothers, asylum seekers from Central America are fleeing unspeakable violence, and have risked their lives to come here, because remaining in their countries of origin is a death sentence. Yet the Obama administration decided that the week before Christmas would be an auspicious time to announce that it would intensify deportation of the mothers and children. Democratic presidential candidate Bernie Sanders rightly denounced the administration's act as outrageous, "We need to take steps to protect children and families seeking refuge here, not cast them out. Our nation has always been a beacon of hope, a refuge for the oppressed."
We, a group of Jewish women have decided a year ago to uphold America's promise to be a beacon of hope and place of refuge. As Jews, we remember a time during World War II when it was Jewish parents who put their children on trains, boats and buses, hoping they would find safety at the end of their journey. In the summer of 2014 we organized a local group, Jewish Women for Child Refugees, JWCR to take action and help these asylum-seeking children.
We found out that many of the children are being sent back to their countries and those are mostly children who are not represented by lawyers to argue their case. Our plan was to raise funds to send lawyers first to Artesia N.M. to detention centers for mothers and children seeking asylum and later to Dilly, Texas.
We teamed up with the community of Spanish speaking Rochester attorneys to find lawyers willing to volunteer their time to travel to New Mexico and Texas and spend at least a week assisting refugees with their asylum applications. We had an overwhelming response rate, and we have sent five attorneys, and have raised enough money to send at least two additional lawyers.
Our goal was to send the lawyers at an estimated cost per lawyer of $1000. The Legal Aid Society of Rochester, a 501(c)(3) charitable organization, has agreed to administer our funds and receive our donations. The response to our call for action was overwhelming and we are grateful to them all for their enormous generosity.
A year ago, on Wednesday December 3, 2014 we met with three lawyers who have been to Artesia, Michael Lopez, Teo Siguenza, and Carlos Rodriguez. They shared with us the shocking living conditions at the ICE (Immigration and Custom Enforcement) detention center.
The mothers impressed the lawyers with their courage to embark on a dangerous journey because they were determined to save their children's lives. They told the lawyers that what kept them going, was the hope they would be able to take their children to safety. One mother described swimming the Rio Grande with her baby on her back.
What we heard was a firsthand account of an inexplicable detention, and a chaotic and perplexing process of determining deportations. The lawyers noted that seeking asylum according to the United Nations Geneva Convention (1951) is not illegal and these asylum seekers have committed no crime. Nevertheless, upon crossing the border the mothers and children have been immediately detained by ICE, and placed in a secure facility – as though they were criminals. The mothers are interrogated about the assistance they received in getting to America – as though they were party to a criminal conspiracy – when in reality all they wanted was a safe place to raise their children.
The children and mothers were shocked to learn that their suffering was far from over. The lawyers saw the center as a prison in which no clear rules are imparted, leaving the refugees guessing as to what is expected or how they should go about the legal process. Mothers resorted to writing notes on pieces of paper asking for legal help.
The lawyers described the process of asylum seeking at the center as chaotic and arbitrary. Adding to the chaos is the fact that all encounters with U.S. officials take place in translation; the officials don't speak Spanish and the process of applying for refugee status depends on translation. So much is at stake in the process, the lawyers said, since the first step is an interview with an asylum officer called a "Credible Fear Interview." It is an interview in which mothers and children have to make a compelling case that they have a credible fear of serious physical harm or death if they return to their home countries.
The second stage is to post a bond that is determined by the asylum officers and confirmed by a judge. The lawyers were moved by their encounters with the mothers they accompanied to the bond hearing with the judges who were not legally trained and did not speak Spanish.
The lawyers found out that there were no fixed amount for the bond, and the amounts could vary from $0 to as much as $20,000 with little apparent logic. In reality ICE could have determined that no bond at all was needed. A relative of the petitioner would have to send the bond money and sometimes and for no obvious reason the bond could be denied. The sense the lawyers got was ICE made little effort to make the process organized, coherent or fair, and that the underlying goal was to discourage the refugees, most, if not all, of whom had relatives who would provide a bond.
The lawyers felt that they were most effective in the bond hearings before a judge and in reducing the bond amounts so that these refugees could be reunited with their families. They were grateful for the opportunity to help the mothers and children and said they were shocked and pained to see the plight of the refugees.
Ahavya Lauren Deutsch, the lawyer who went to Dilly Texas in April 2015, described her encounter with the mothers, "Every single woman I spoke to (approximately 30 or so) described a terrifying journey to the US, including rape and other sexual assault, violence, robbery, exhaustion, and near starvation. They are incarcerated because they want to live here, and have risked their lives to get here. One woman said to me, 'America is the only country on earth where people follow the law.'" She added that the mothers "all felt that deportation was a death sentence."
In October 2015 the Guardian reported "that several U.S. deportees were killed after American customs agents returned them to the Central American countries from which they fled. Some of them were killed within days of their return." The report noted that Human rights experts warn that the US government is not fulfilling its obligation "to provide asylum to those genuinely in peril in violation of international law."
Attorney Carlos Rodrigues said that, "Obama should be ashamed of what is going on."  America, all of us should be ashamed, but more importantly we should not allow it to go on.
***
Donations
Please mail any donations to The Legal Aid Society of Rochester, Attn: Bill Davis at 1 West Main Street, Suite 800, Rochester NY 14614. Any checks should say "JWCR" on them in the memo line, and we will ensure you receive a receipt for tax purposes. Please let us know if you have any questions. We are so grateful for your generosity.
Our Contact are: Debby Kornfeld Phone: 585-269-8528; Ayala Emmett Email: ayala.emmett@rochester.edu

An earlier version of this article was published on December 2014 by Ayala Emmett, Deborah Kornfeld and Ahavya Lauren Deutsch for the JWCR. It was updated on December 26, 2015.